26 September 2013
Corona Labs and OUYA partner to create more opportunities for game developers on the big screen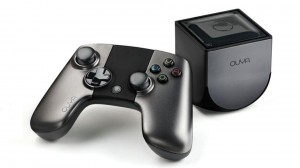 From an action-packed arcade game to a turn-based RPG, some games look 10x more awesome on the big screen. To provide Corona developers with more distribution opportunities, we're thrilled to announce a partnership with OUYA an innovative game console that's made headlines for their developer-friendly approach to gaming.
In the midst of the console versus mobile debate, we're offering developers the best of both worlds. The power of Corona SDK's unprecedented development speed, combined with the chance to get a head start in OUYA's growing market, opens a new avenue for game developers. With less than 500 games on OUYA, the market is far less saturated than the App Store or Google Play, and presents an opportunity to any developer that wants to see their game on the television. That means our talented community – that's right, all of you – can start creating the next big hit.
Getting started with OUYA
Corona SDK Pro and Enterprise developers can now incorporate OUYA's game network and integrate in-app purchase into their OUYA games.
Take a look at OUYA's plugin documentation and download the referenced sample source code. Once your project is ready to build, select "Build for Android" in the Corona Simulator and OUYA as your "Target App Store."
Limitless game controller support
As a reminder, beyond integrating the OUYA game controller, you can now target nearly all HID devices including the GameStick (to ship on October 29) and PlayStation DualShock 3 game controllers, along with MOGA Pro and NVIDIA Shield. Customize your games by taking full advantage of controllers' buttons, D-pad, analog thumbsticks and triggers. Taking it one step further, we also enable you to incorporate Bluetooth keyboards and mice into your games.
Why develop for OUYA?
OUYA is ramping up and providing attractive benefits to developers.
Accessibility: OUYA works diligently to support as many developers as possible.
Discoverability: OUYA shares content from all sorts of great developers. From OUYA's engagement-metrics driven trended sections, to special guest-curated categories, OUYA looks to surface unique and enjoyable content to keep gamers playing and exploring new content.
Publishing is easy: With a few clicks and a controller in hand, your game will be live on TV for the world to see.
Low financial barrier: OUYA offers an affordable console dev kit; just $99 for the console, and no fees for submission of games or updates.
We can't wait to see what you cook up for OUYA. So get to porting, and share your work with us!