26 October 2013
Halloween App Roundup: Wakaville, Halloween Kids Puzzles, and MathBrew
With Halloween creeping up, what better way to get in the spirit than with a zombie-hunting action game, a witchy math app and holiday-themed digital puzzles? For those that celebrate, have a ghoulish Halloween and check out some of our favorite Corona-powered apps for the occasion.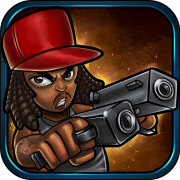 Wakaville
Fight your way across the country as you battle hoards of zombie attackers in this post-apocalyptic thriller. Bring the pain with guns, knives, and fists and play mini-games to increase your skills and give your character zombie-killing abilities. Compete against players from around the world to win prizes including headphones, t-shirts, concert tickets, and even a chance to meet rapper Waka Flocka backstage at a concert. Wakaville is hitting the App Store on October 29 – keep an eye out!
Halloween Kids Puzzles
Take your kids on a virtual trick-or-treat adventure with a friendly Count Dracula, Frankenstein and his girlfriend, a fairy princess, a pirate and a werewolf! Spot carved pumpkins, black cats on fences and witches flying by the moon. All the animals get in on the costume fun – cats dress like dogs, dogs dress like cats, and there's even a unicorn bat! Download Halloween Kids Puzzles from the App Store.
MathBrew
Bubble, bubble, boil and trouble! Help the witches craft a potent potion by completing equations. Practice adding, subtracting and multiplying numbers and enjoy spooky special effects and sounds. Math isn't scary, but it can be fun! Download MathBrew from Google Play, the Amazon App Store and NOOK Apps; coming soon to iOS.
If you have recommendations for Corona-powered, Halloween-themed gems that missed the list, let us know in the comments below!