13 August 2015
Big news for the Windows Simulator!!!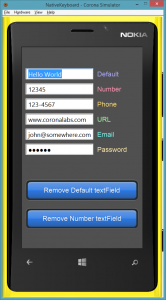 Our Engineering team did something really big today.  We now support the native.newTextField() and native.newTextBox() APIs on the Windows simulator.  And as a side benefit Windows desktop builds will also get text fields now.
There are a couple of caveats. It does not support  transparency via "alpha" or "hasBackground" properties, but as of daily build 2015.2695, you can test your input in the Windows Simulator.

Go grab the build today!  https://developer.coronalabs.com/downloads/daily-builds/