13 December 2016
Corona Marketplace submission contest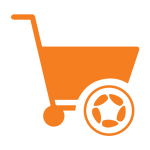 The Corona Marketplace now has a healthy selection of assets and plugins that you can use in your projects and games, but we're always looking for more. Plugins, audio, and artwork are being submitted routinely, but we believe that Corona developers would also benefit from code-based assets such as a selection of game mechanics or fully functioning modules that can be used to jump-start a project.
With this in mind, we're announcing our first Corona Marketplace Contest to help seed the marketplace with even more awesome content!
Theme: Game Mechanics
For this contest, we're looking for any plugin or asset that can shortcut the development of any specific part of a game's mechanics. It can be something as simple as a "menu" skeleton or something more complex like a randomly-generating platform engine. The submissions will be judged on:
Usability – How many types of games would this apply to?
Portability – How easily can it be adapted or customized for a developer's needs?
Documentation – How clear is it to actually use and understand your contribution?
Complexity – How much time would this product save a developer versus building it from scratch?
Submission Guidelines
All products submitted and approved via our Submit A Product Form from today, December 13, 2016, until the deadline date of January 13, 2017 will be considered for this contest. Please review our Vendor FAQ to learn more about the submission process. Your product will be offered for sale immediately, before the contest's deadline — it simply needs to be submitted before January 13, 2017.
Prizes
Grand Prize – Bose QC35 Wireless Headphones + a higher revenue share for your product for 6 months (85%).
Runner-Up Prize – A higher revenue share for your product for 6 months (85%).
Honorable Mentions – In case we need to recognize any other solid submissions that didn't quite make the cut; a higher revenue share for your product for 3 months (80%).
Of course all recognized products will be featured (with the green Featured banner) in the marketplace.
Conclusion
We plan to hold additional contests in the future with different themes. If there are any questions or clarifications needed for this contest, please post in the forums. Whether it be a recycled portion of one of your apps, tailored for the contest, or an entirely new game mechanic concept, we look forward to what our ingenious developers will come up with!