11 January 2017
Case Study: Floorvana by Shaw Floors
Those little technological wonders we carry in our pockets aren't just for entertaining ourselves with a game, reading news, or sending emojis to our friends — they can actually solve problems!
Case in point: Shaw Floors dealers faced a common problem where customers would come into the store seeking a flooring product that would match the color of a piece of cloth, paint sample, or other interior item. To meet this request, some dealers added expensive in-store spectrophotometers, but they were not very accurate.
Dave Haynes, long-time Corona developer and Shaw Industries employee, had an idea: "I bet we could get pretty close just with a phone camera, as long as the lighting is decent." So he built a quick prototype with Corona, showed it to his co-workers, and they loved the idea. After some work with designers and the development team, Floorvana by Shaw Floors was born.
Given that Shaw Floors wanted the app to be ready for their start-of-year convention, and with only a few months remaining at the time, Dave decided to use Corona, the development platform he was familiar with, to build the full Floorvana app.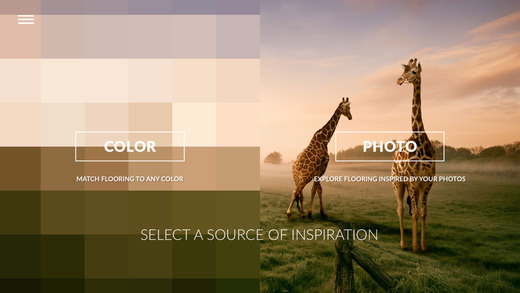 With Floorvana, you can take a snapshot of an item and find a Shaw Floors product that matches. Since its release, the app has won two Davey Awards for Best User Experience and Best Visual Design. It has also been nominated for Most Creative Solution by the Technology Association of Georgia.
Haynes has been using Corona since 2011 to build his own games and he knew that it would be great for this project. His small team achieved more than they thought possible in the short amount of time they had. "Without display.colorSample(), we could not have completed a major part of the project," Haynes said. "We also use the networking helper functions like network.request() to communicate with our backend web API, but the main thing for us was to have a single code base for iOS and Android."
The first version of Floorvana took about three months to complete. Since then, they have been providing updates and adding new features requested by consumers, dealers, and business partners.
Floorvana is available for iOS and Android for free. Check it out!