17 February 2017
Corona Marketplace – Recent featured products
If you haven't peeked into the Corona Marketplace recently, it now offers dozens of plugins and assets, from art packs to audio tracks to useful utility plugins. Periodically, we will highlight a few exciting products which can help you develop your dream app using Corona.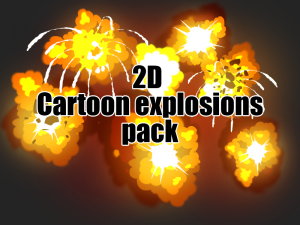 At a deep level, we all love explosions. The 2D Cartoon Explosions pack is a collection of flashy explosions for spacecraft, aircraft, sea, land, and other vehicles or structures, sure to add some pyrotechnic pop to your games!
This Android plugin allows you to control/manage files outside of the app sandbox (files on the device). This incredible plugin makes it easy for users to access folders like system music, photos, documents, and downloads.
Every futuristic game has machines, and machines make noise! The Robotic Movements Pack contains 11 designed movement/transition sounds, suitable for robot/machine movement and futuristic mechanical stuff as well.