04 February 2013
App of the Week: What the Block?!
Using a clever and intuitive physics-based game design, What the Block?! is a challenging game that will put both your strategic thinking skills and your dexterity to the test. Based on Tetris-like principles, What the Block?! is a cinch to learn, but requires careful planning to progress in the game.
With over 150 hand-crafted puzzles, What the Block?! offers hours of addictive gameplay for fans of strategy games. Each level presents you with blocks that need to be rotated and dragged towards their corresponding shadow pattern. As you align, rotate, and move blocks, you're encouraged to use more than one finger in a balancing act. Most levels also contains objects that will help you hoist your blocks into their proper place. By completing each level quickly and with minimal block movements, you'll rack up more points.
Within days of the game's release, it's received an average 5-star rating on iTunes from emphatic fans. To experience the addictive puzzle game for yourself, head over to the App Store and download What the Block?! for $0.99.
Honorable Mention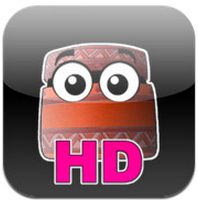 Crazy Boxes
Crazy Boxes is an arcade shooting game set in a loony toy workshop filled with bouncy boxes. As boxes pop open on the screen, your objective is to hit them with a slew of balls by physically move your device. By aiming at the boxes and tapping the screen to fire away, you can bring them down and earn a bundle of points. Crazy Boxes' quirky characters and awesome interactivity provides a dynamic game experience for players of all ages. Check out the cross-platform game for your iOS, Android, or Amazon device.