18 March 2013
App of the Week: Cling!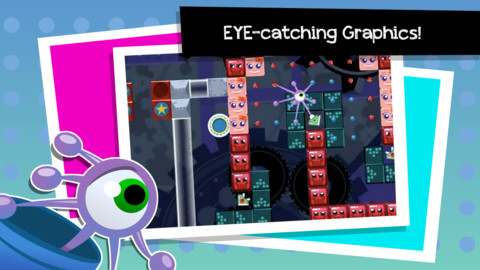 If you embraced the cartoon-esque graphics and intuitive gameplay of Gotta Feed Garp, Cling! will have you instantly hooked. Cling! is a pegformer arcade game that's developed by First 5 Games. The Floria based-studio's mission is to capture a player's attention within the first five seconds to create five lifetimes of enjoyment. By providing endlessly enjoyable gameplay and gorgeous graphics, Cling! holds true to the studio's motto.
The star of Cling! Is Edgar – a six-tentacled eyeball that lives in a toy vending machine. When a child drops a quarter into the machine to retrieve a prize, Edgar has a chance at freedom. Unfortunately, Edgar's capsule breaks and he must battle the dangers of the machine to escape. Your job is to guide him through the vending machine maze, reaching a transporter in each level, and avoiding dangerous obstacles and falls.
The gameplay is simple: as you touch pegs on the screen, Edgar uses a unique wall-crawling style of movement and "clings" onto the floating pegs. Your finger acts as a focal point for where Edgar travels in the maze. The blue pegs pull Edgar in, while green pegs push him away, and red blocks electrocute him. Edgar also happens to be a bit of a fashionista and loves his headgear – if you can lead Edgar to safety and pick up hats and other goodies along the way, you'll earn extra points.
See why fans award Cling! with a 5-star average rating and check is out for $2.99 in the App Store.
Honorable Mention
Russian Dolls
Russian Dolls is a fun, simple dress-up game for young children, that's both entertaining and educational. From dresses to overalls to sweaters, Russian dolls offers a variety of fun clothing options to stylishly dress the on-screen doll. As a child dresses the doll by dragging and dropping articles of clothing, the app says the name and color of each selection. Once the doll is dressed in the perfect outfit, children can even snap a photo of their creation and save it to the device's gallery. Check out this cross-platform game in the App Store or on Google Play.