06 May 2013
App of the Week: Move and Fire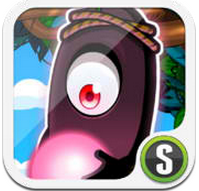 Move and Fire is a puzzle game that weaves the basic principles of pinball with the laws of physics. It's both challenging and entertaining, featuring standout graphics that pop right off the screen.
In Move and Fire, your goal is to hit yellow orbs with a small ball that ricochets off blocks and obstacles within each level. To collect all the orbs, you must strategically position the blocks, which direct the ball in the right direction. Once you collect all the orbs, you receive a score that's based on the amount of time it took you to complete the level, as well as the number of block readjustments you made. Of course, a faster time and a minimum number of block readjustments awards you with a higher score. Though this puzzler becomes quite difficult from the start, there's nothing more gratifying than successfully completing a level and moving ahead.
With 100 challenging puzzles across four worlds and an interactive leaderboard, you can easily kill several hours conquering Move and Fire. Best of all, the game is cross-platform, and offered as a free download for players on both Android and iOS.
Also, for those of you that followed our Corona April App of the Month poll on Facebook, we'd like to applaud Garfield's Trivia Party on winning the community vote! Remember to like Corona Labs on Facebook to vote in future App of the Month polls.
Honorable Mention
The Three Little Pigs
The Three Little Pigs is an interactive storybook for iOS, that offers a twist on the fairytale that we all know and love. The adorable illustrations, easy navigation and delightful storyline is perfect for young children to read aloud, or to enjoy via the storybook's narration. Thanks to Kwik 2.0, a popular third party tool, The Three Little Pigs was created without any code by a team of talented artists at Backseat Driver. Download The Three Little Pigs from iTunes for $1.99 to experience this lovely interactive tale.