20 May 2013
App of the Week: Tomb Breaker
This week's App of the Week – Tomb Breaker – is a brand new puzzle game that was created with Corona SDK and recently graced with a 'New and Noteworthy' recognition on Apple's App Store.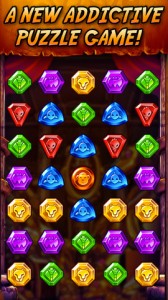 A year in the making, Tomb Breaker was developed by Kurt Bieg, the designer behind Simple Machine, with art by Victor Soto. It's a casual puzzle game that's easy to learn and fun for all ages, thanks to vibrant graphics and intuitive gameplay.
In Tomb Breaker, your goal is to clear as many gem tiles as possible by swiping across tiles to make chains. The more tiles you clear in one swipe, the more points you're awarded. As you collect gems and purchase game powerups, you can also score breaking crossovers, clears, and combos. And, if you're feeling competitive, you can challenge friends on Game Center or on Facebook, or you can play against your own high score.
This catchy puzzle game is available for free on iTunes – give it a play!