24 June 2013
App of the Week: Foresee

Created by BorderLeap, Foresee is a beautiful utility that helps you plan your outdoor activities by intelligently comparing your ideal conditions with the local weather forecast.
Once you select your favorite activities and preferred conditions, Foresee will show you the best times and days to engage in your activity.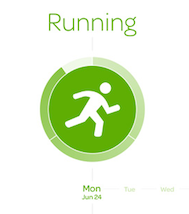 So, if you like running in the mornings with low humidity and moderate wind, Foresee can help you find those days. Assign a custom color to each activity for quick reference.
We love Foresee's beautiful interface and we think it is a fantastic showcase for how Corona can be used outside of gaming! It launched only a few days ago and has already gotten great reviews, and was recently the #3 Paid productivity app!
Foresee is available on iTunes and coming soon for Android.