01 July 2013
App of the Week: Penguin Rescue
Created by Learning Gems, Penguin Rescue is a word puzzle game that's centered around saving adorable penguins from the perils of an ice cavern. Available for young players on iOS, Android and Kindle Fire devices, Penguin Rescue is loads of fun, boasting chirpy music and fantastic graphics.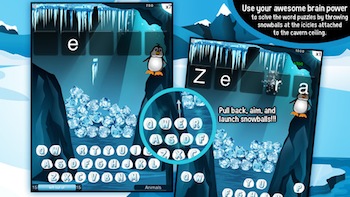 To save a penguin, you must solve the word puzzle in each game. To start, you're presented with snowballs that are each marked with a letter. You're given twelve attempts to throw the snowballs at icicles above – with each correctly guessed letter, the snowball hits an icicle causing it to fall and break through the ice below to get your penguin one step closer to safety.
Once you solve the entire word, all the ice blocks break and your penguin friend can swim out. The faster you solve each puzzle, the more points you will earn, and with each completed word you save the life of one penguin. Once you've played several rounds, you can get a snapshot of the rescued birds by visiting the Penguin Village. Upon seeing all your successfully "rescued" friends, you'll enjoy a sense of accomplishment and will feel even more motivated to forge ahead and save the others.
You can download your copy of Penguin Rescue for just $0.99 in the following app stores:
iTunes: itunes.apple.com/us/app/learning-gems-penguin-rescue/id652219740?ls=1&mt=8
Google Play: play.google.com/store/apps/details?id=com.bluefireventures.penguinrescue
Amazon Appstore: amazon.com/Learning-Gems-Penguin-Rescue/dp/B00CYPD4GG/