22 July 2013
App of the Week: Just 2 Words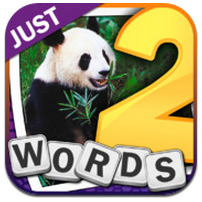 For fans of Word Winder, the popular 2012 App of the Week, we're excited to share a brand new word puzzle game from creator David L. Hoyt! David is well-known for his nationally syndicated puzzle games and brain teasers including USA Today's Up & Down Words, Jumble Crosswords, and TV Jumble and has recently released Just 2 Words, a Corona-built game for iOS and Android.
Just 2 Word's gameplay is so intuitive that you can start solving puzzles right after you download – no instructions necessary! Each puzzle provides a set of images that may seem incongruent at first, yet give clues to a two-word answer.
To solve the puzzle, just unscramble the set of letters at the bottom of your screen. The answer may be anything from an everyday item, to a famous entertainer, to a popular saying. While you will encounter an occasional brain teaser, the majority of puzzles can be solved quickly without too much fuss. Once you correctly solve a few puzzles, you'll rack up coins – these can be cashed in to buy tips when solving more difficult puzzles. If you're really struggling you can buy coins via in-app purchases and get a freebie letter thrown your way.
If you enjoy a good word game, you'll love the hundreds of puzzles featured in Just 2 Words. The game is available as a free download on iTunes or Google Play – head to the app stores and check it out!