06 September 2013
Guest Piece: PlayHaven Brings its Business Engine to Corona Devs
Lauren Feldman is a product manger at PlayHaven, the leading business engine for mobile games. One of her responsibilities is to work with PlayHaven's team of engineers on the development of partner plugins.
PlayHaven offers developers flexible tools to intelligently manage player acquisition, engagement, and monetization. For more information visit playhaven.com.
---
Creative people love to create – and that's you, game developer – whether that be rich game content, meaningful interactive experiences or experimental techniques in game design. We want to keep you focused on what you love, which is how PlayHaven came into existence. PlayHaven was built so you can focus on content and design and let us power the business side of your games.
We're thrilled to partner with Corona SDK to help you with the acquisition, engagement and monetization layers in your game.
By leveraging the PlayHaven Corona Plugin, you can do the following without impacting your game's roadmap.
Drive high-quality players to your games
Our user acquisition tools help you successfully launch your game into the marketplace and bring quality players into your game. Choose to advertise within our ad network or distribute your users to other games in your network using our cross-promotion tool.
Keep users playing
Learn more about your players, build customer loyalty, improve communication, and re-engage them after they've left the app. PlayHaven's engagement tools help you deliver targeted, personalized communications in and out of your game to keep your players engaged. From Push Notifications (Beta) to Rewards, in-game Announcements and Opt-in Data Collection, you have lots of great ways to interact with your users in any way you choose.
Monetize your whales, dolphins and… EVERYONE!
Increase your player conversion rate and revenue by leveraging our monetization tools. By creating and deploying virtual goods promotions and relevant in-game ads to the right user segment at the right time, you're getting the tools you need to maximize revenue. PlayHaven can help you both identify monetizable user groups and deliver relevant communications designed to increase your bottom line.
Take a look at how our partners are using PlayHaven.
Mobile Deluxe leveraged a combination of PlayHaven's Virtual Goods Promotion, Interstitial Ads, and User Segmentation tools to improve player monetization and increase revenue in Big Win Slots. Read more here.
SEGA implemented PlayHaven's Opt-in Data Collection to engage players outside of Sonic Jump and simultaneously cross-promote Sonic Dash. Learn more about the impressive results SEGA saw here.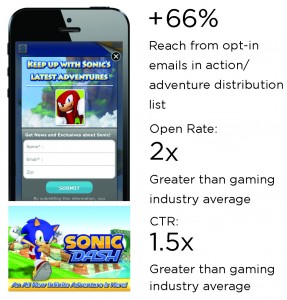 We're excited to bring our entire platform of solutions to help Corona developers acquire, engage, retain and monetize their players. To integrate PlayHaven into your Corona-built games, please visit docs.coronalabs.com/daily/plugin/playhaven/. If you have any questions, reach out at connect@playhaven.com.