23 September 2013
App of the Week: Elements of Photography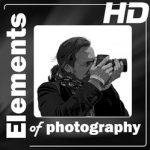 Learning the functionality of your digital single-lens reflex (DSLR) camera can be a tricky task — so much so, that many users resort to using their powerful new cameras in "auto" mode. In response to this trend, a group of photography enthusiasts and graduate students created Elements of Photography, an app that helps novice photographers understand the basics of the trade. Organized into chapters with beautiful HD photos and easy-to-understand text snippets, the app offers a beginner course in "Photography 101," covering everything from focal length to shutter speed to advanced topics.
Hoping to reach as many users as possible, the team developed the app with Corona SDK to target photographers-in-training who use iOS, Android, and Kindle devices. Lead developer and amateur photographer Amiya Patanaik told us, "Developing natively was out of question as it would have been prohibitively time consuming. Moreover, no one in the development team had a Mac and for a long time, I did not even have an Android phone. So we had to choose a cross-platform development framework to satisfy our needs."
The team considered wrapping the app with PhoneGap, but after some experimentation, felt it lacked the polish for commercial appeal. After evaluating other tools like Cocos2d-x, Moai, Gideros, GameMaker, and GameSalad, the team decided on Corona SDK for the platform's rapid development capabilities, ease of use, and level of control. Patanaik noted that, "Most importantly, Corona SDK offered a vibrant community that shares code and ideas freely. This made it very easy to troubleshoot when we were stuck." You can read more about Patanaik's experience working with Corona SDK on his personal blog.
With over 20,000 downloads to date, Elements of Photography is even used by the Veterans Vocational Education and Training (V-VET), a non-profit organization that helps recently-returned military veterans increase their skill set, assimilate into society, and generate an income.
If you have a DSLR but don't understand its full capabilities, or if you simply want to learn the basics of photography, download the app from iTunes, Google Play or the Amazon Appstore.