14 October 2013
App of the Week: Sushi Friends 2: World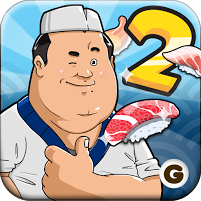 If you've ever wanted to become a sushi master, here's your chance! Sushi Friends 2: World is the sequel to the hugely popular Sushi Friends from Japanese studio Fun Top Cool Games. The original game has enjoyed over 2,000,000 downloads and the sequel is already a hit, amassing an average 5-star review on Google Play.
Sushi Friends 2 is a clever strategy game that places you in the role of a sushi chef building his restaurant empire. If you're not a sushi pro, a teacher will instruct you on the basics at the start of the game, helping you create delicious sushi to please your customers. Before long, however, you'll need to start building your reputation by creating killer sushi and pleasing your customers based on how quickly you can deliver their meals.
The game allows you to create over 200 popular sushi recipes with the swipe of a finger, but time is of the essence since your customers are hungry and impatient. To acquire new tasty ingredients and restaurant decorations, you can utilize in-app purchases. After you've met your daily goals and earned a hefty sum of tips, you can open new restaurants to expand your sushi empire.
Sushi Friends 2 features a unique concept and provides players the opportunity to learn about authentic sushi while enjoying a variety of gameplay options. Download your copy from Google Play or iTunes and start your virtual sushi franchise!