25 October 2013
Guest Piece: Little Galaxy and Lessons Learned in Marketing
Marek Zilavy is a creative consultant for Little Galaxy, a game developed by Bitmap Galaxy. Marek was responsible for the copywriting, viral marketing, and public relations for Little Galaxy. Currently, Mark also works as a game designer for browser, Facebook and mobile titles.
In August 2013, Little Galaxy was recognized as a Corona App of the Week winner. In his guest piece, Marek shares the lessons he learned while marketing Little Galaxy, and his plans to build an audience in the game's next update.
---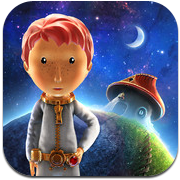 Little Galaxy is a space-themed arcade game that was forged out of a passion for game development and created by people who love gaming. We paid careful attention to each detail and were thrilled to launch our first mobile title with Corona SDK.
Sadly, we learned the hard way that is it not enough to create a great game. The app markets can be cruel and unforgiving and commercial success and profitability requires another element: marketing.
Our initial marketing strategy
Little Galaxy was released with a great deal of preparation. The marketing was a large part of the work and it was semi-successful, as Little Galaxy hasn't fallen into the depths of the app market oceans. While Little Galaxy had its moments in the spotlight, it wasn't for nearly long enough.
The most successful part of our marketing strategy was getting good reviews. It was well worth the research we did – putting together mailing lists, sending out messages to writers, and including promo codes. Thanks to our hard work, Little Galaxy received over a dozen great reviews including those on AppAdvice, IGN, GigaOM, PocketGamer and Cult of Mac.
Thanks to the reviews, sales started to grow and Little Galaxy climbed the charts. At one point, the game even reached the Top 20 in Games on the US App Store. The success is a testament to the quality of the game, but not to its marketing presentation. We didn't invest any money into marketing and advertisements, and simply relied on a handful of good reviews from media and fans.
A few failed marketing attempts
Our other aspects of marketing were far behind. The Little Galaxy Facebook fan page has a mere hundred fans and our viral experiments remained mostly unnoticed.
Our first viral experiment was something we call "fake shots." We Photoshopped pictures that parodied UFO sightings and showed the hero of our game jumping from one location to the next around the world. We sent these to game review sites, hoping someone would swallow the bait, but this didn't get us much traction. When we put these images up on our Facebook page, we just confused our audience as we didn't establish a good connection between the images and Little Galaxy.
Our second viral experiment was sending a letter to various space agencies. You can read more about that experiment here. While it was fun to send silly emails to space agencies asking for a space suit and sending images of a little boy jumping around the world along with cryptic message, these experiences didn't help us foster an audience of players.
Piracy abound
Even the purchase and pirate copy ratio was a challenge. Especially on Android, this ratio was catastrophic, with 80% of the users obtaining pirated copies of Little Galaxy. For this reason, we've developed a new strategy for the next update of the game.
Conclusions and lessons learned
The most important lesson we learned is that marketing is really important. A dedication to marketing means that one team member solely focuses on communication and marketing. Also, marketing should be thoroughly planned and started before the app is completed. Ideally, there should be some buzz around the game on a bunch of sites before it is released to the public.
While we learned that it's not enough to be passionate game developers, we're ready for round two. We are currently working on a new version of the game that will be free with in-app purchases. The game will also have some extra features to garner attention for our Facebook fan page and Twitter followers. The goal is to build a bigger community, which we can tap into when releasing future project. We're also searching for an investor that would be interested in working with us. Armed with great initial reviews and many happy players around the world, we are ready to get the game to the top.
Get ready for Little Galaxy, world!