14 April 2016
Featured App: The Pedestal – a unique take on a jumping game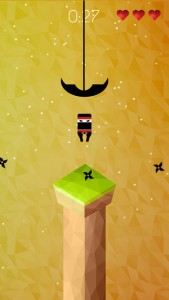 The Pedestal is a fun game based on a minimalist approach. In the game, you play the ninja Akira who has been trapped on a desolate pedestal. Your goal is to survive by jumping to avoid shurikens being thrown at you and avoid being hit by the scythes swinging above you. The game was inspired by Eastern Asian culture and the stories of Edgar Allan Poe.
The game was recently released by indie developer Daniel Ivanov to the Apple App Store. It contains stunning, eerie sound effects alongside appealing art, which creates an enjoyable atmosphere along with challenging game play. The game takes advantage of Corona SDK's physics and particle effect libraries to give the game it's punch.
You can download it from the Apple App Store for $0.99.

What can you do with Corona SDK? Download it for Free and see!