15 February 2016
Corona Geek #180 – Adding Explosive Mines and Handling Player Deaths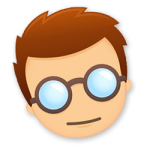 Today's Corona Geek Hangout was fraught with technical issues. Google Plus Hangouts kept crashing and we lost the first part of the show, but in the end we were victorious. To overcome our challenges, we switched to a new video conferencing service, which presented some interesting new options and provided some much needed video quality. You should notice these welcomed changes right away.
During the second half of the show, we explored the code and concepts behind implementing explosive mines that wipe out all spawned enemies and we discussed how to handle player deaths when the player object runs into enemies.
This Hangout is the last episode in our Geometry Wars Clone series. The current code is playable on mobile and desktop using touch and game controllers. Download the Geometry Wars Clone project and make it your own.
By the way, Ed Maurina is looking for testers for his new tool to automatically generate common types of starter game templates. Signup to be an alpha / beta tester for his project and help shape a development tool that will benefit the whole community.
Show Notes:
Panel Guests:
Promote Your Apps:
Let's Meet Face-to-Face:
Thank you for watching, listening, and following Corona Geek: